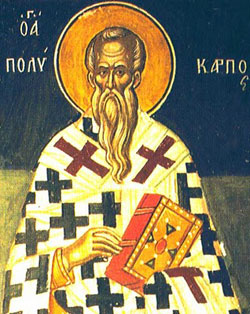 Introduction: Written in c. 156, "The Martyrdom of St. Polycarp" is a letter written from the church at Smyrna to the church at Philomelium and offers the oldest written account of a Christian martyrdom following the St. Stephen's martyrdom in the Book of Acts. St. Polycarp, bishop of Smyrna, (69 – 156) was a disciple of St. John the Evangelist (the Theologian), a friend of St. Ignatios of Antioch, and a teacher of St. Irenaeus of Lyon. The account of the martyrdom of St. Polycarp demonstrates a number of important themes including love of enemy, imitation of Christ, the veneration of the saints, the importance of relics, among others.
Watch this short video below to solidify the historical context presented above.  Try not to peak at the introduction text above while watching the video!
[vimeo id="166191672″ width="600″ height="350″ autoplay="no" api_params="" class=""]
Related links for more additional historical context:
In the next lesson, you will be able to access "The Martyrdom of St. Polycarp" text and review the core questions.
We Welcome Your Feedback on this Lesson!
[button link="https://docs.google.com/forms/d/14DQ2Fl5XcZwzGUyFH85BqITDtvVwVNxyurNwLJ8JxvI/viewform" color="default" size="" type="" shape="" target="_blank" title="" gradient_colors="|" gradient_hover_colors="|" accent_color="" accent_hover_color="" bevel_color="" border_width="1px" icon="" icon_divider="yes" icon_position="left" modal="" animation_type="0″ animation_direction="down" animation_speed="0.1″ alignment="center" class="" id=""]Lesson Feedback[/button]