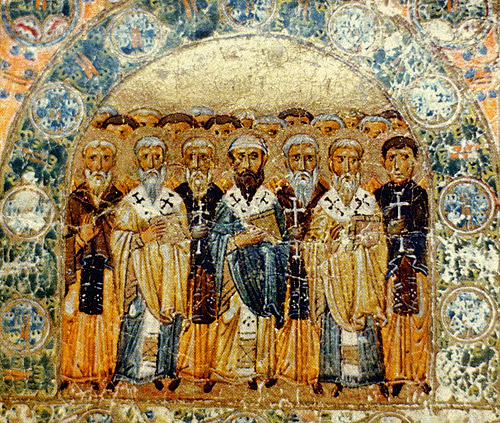 Welcome to Lesson 3!
Steps to complete this lesson:
1.  Read through the core questions.
2.  Read the text via the link provided.
3.  Mark the lesson complete.
Let's get started!
Step 1:
As you read through the text, there are several questions we believe are core to understanding the text.  You may want to take notes, develop an outline, or even write short-essays over each question once you have read the text.  In lesson 6, we will provide short videos walking you through each core question in relationship to the text.  Think of these questions as guiding questions for the remainder of the course.  As you work through the lessons prior to lesson 6, we will encourage you to continually reflect on the core questions to develop and deepen your understanding of the text.
Core Questions:
How does the description of St. Polycarp mirror the gospel narrative of Christ's crucifixion?
How is Christian leadership portrayed in the text?
What is the distinction between those who are faithful to Christ in martyrdom and those who deny Christ in the face of martyrdom?
How is love of one's enemy developed in the text?
Following the martyrdom of St. Polycarp, what do the Christians do in relationship to St. Polycarp's remains? Why do you think they do what they do?
Step 2:
Click on the link below to access the text.  Then, read the text.  Again, as you read through the text, keep in mind the core questions provided above.  Make sure to take notes on the text, particularly with respect to the core questions.
Please click here to access "The Martyrdom of St. Polycarp" text.
We Welcome Your Feedback on this Lesson!
[button link="https://docs.google.com/forms/d/1qrR8lXYsqxipRRU4mS7YWwKGGDIq0sGvoKdJ16fBq2A/viewform" color="default" size="" type="" shape="" target="_blank" title="" gradient_colors="|" gradient_hover_colors="|" accent_color="" accent_hover_color="" bevel_color="" border_width="1px" icon="" icon_divider="yes" icon_position="left" modal="" animation_type="0″ animation_direction="down" animation_speed="0.1″ alignment="center" class="" id=""]Lesson Feedback[/button]
Step 3:
Once you have read the text, you can mark the lesson complete.  Great Job!